Our Commitment to Sustainability
Actions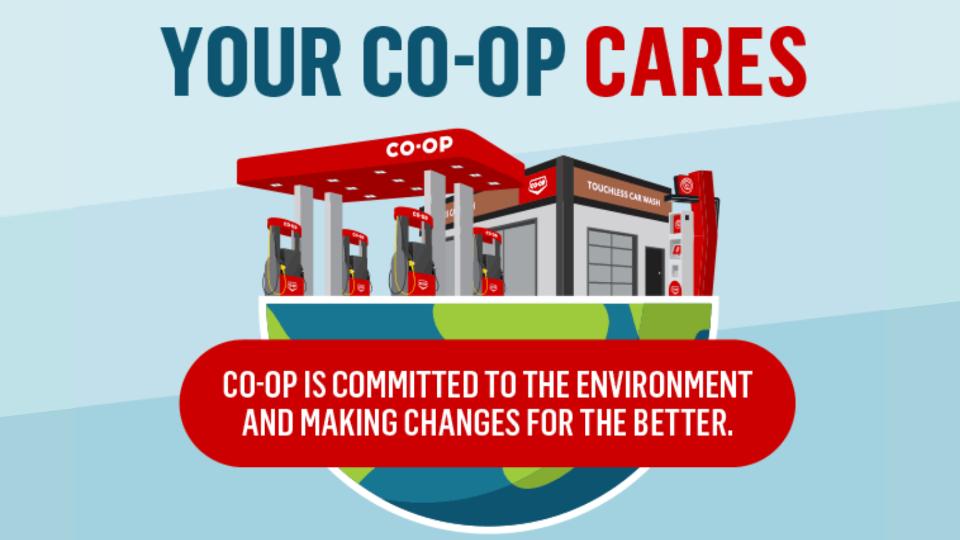 Our Commitment to Sustainability
August 11, 2023
Co-op is committed to building sustainable communities. A key piece is caring for the environment. At Co-op, this care is embedded in all we do.

Through the Loop Program, we're limiting the amount of food waste we produce. Instead of sending unused food to landfills, it's given to farmers for livestock. Learn how 30 Co-op associations have collaborated with the Loop Program in over 60 communities to make a difference: Partnerships for reduced food waste
We need to reduce packaging or find environmentally friendly alternatives. That's why Co-op recently joined the Canadian Plastics Pact. This organization finds solutions to plastics problems to keep it out of the environment. Joining the CPP lets us work collaboratively with other key players to reduce problematic plastics.
Co-op Gold Pure Cleaning Pods are a step in a more sustainable direction. By stripping out the water from these cleaners, the packaging is greatly reduced.
Commercially compostable Co-operative Coffee pods are another example of packaging innovation.


Sourcing Products Responsibly

Our focus on sustainability extends beyond us to the organizations we work with. We strive to find collaborators who use responsible business practices and are committed to protecting the environment. As well, we source products from Western Canada when we can to support our friends and neighbors.
Co-op's focus on sustainable seafood demonstrates our commitment to sourcing products responsibly. Sustainable seafood is caught or farmed in ways that consider the long-term viability of populations and the health of their habitats.
Co-op's Peru and Nicaragua Co-operative Coffee are Fair Trade Certified. Learn how our partnership improves the wellbeing of producers and their communities while protecting the environment: Co-operative Coffee | Earth Day 2022
Promoting Regeneration
Grown With Purpose is a unique agronomic program offered by the Co-op Grow Team that helps increase crop yields and efficiency with on-farm practices that are mindful of air, soil and water quality. This approach helps ensure we are protecting the environment and building a legacy for the next generation.
Learn more about Grow with Purpose here: Grow With Purpose


Sustainable Programming:
Community Spaces
Co-op Community spaces supports recreation, environmental conservation, and urban agricultural projects across Western Canada. Each year, Co-op will contribute $1M to create places for everyone.
Learn More: Articles on Community Spaces Projects



Canadian Red Cross
Co-op is a long-time partner of the Canadian Red Cross because of its commitment to help Western Canadian communities in times of need. Our donations stay in Western Canada to help our neighbours prepare for and recover from the unexpected.
Learn More: Articles about Red Cross Partnerships
Fuel Good Day
Co-op donates a minimum of five cents per litre of fuel purchased to a registered charity or non-profit organization of the local Co-op's choice. It's one of the ways Co-op makes a difference in local communities.
Learn More: Articles About Fuel Good Day

Communities in Full Colour
Communities in Full Colour provides interior and exterior paint or stain for local community improvement projects.
Learn More: Articles about Communities in Full Colour

At Co-op, we know that being a good community member means doing our part to protect the environment and passing a healthier planet on to future generations.
WE ARE Investing in Today
WE ARE Committing to the Future
WE ARE Co-op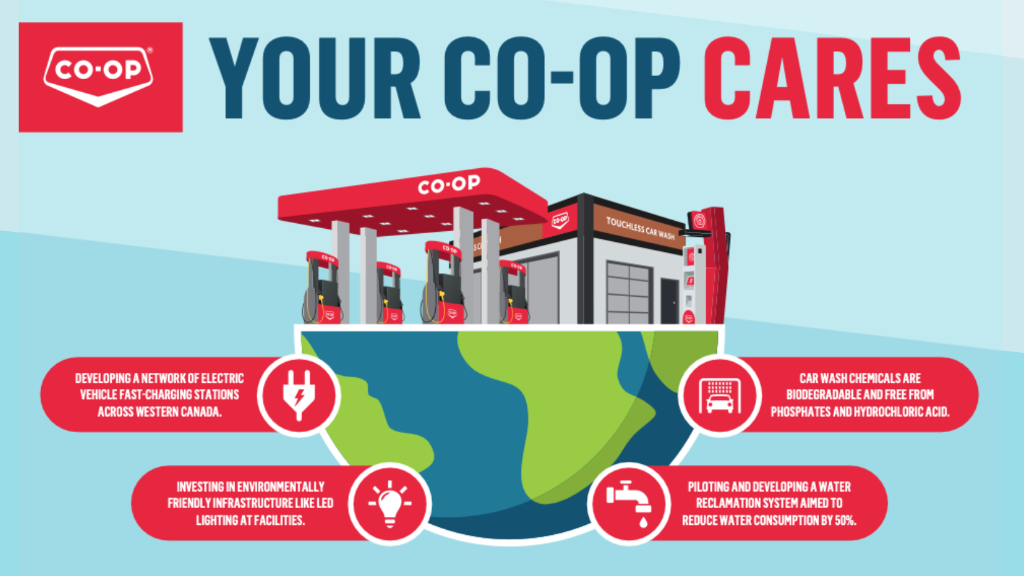 Discover more: