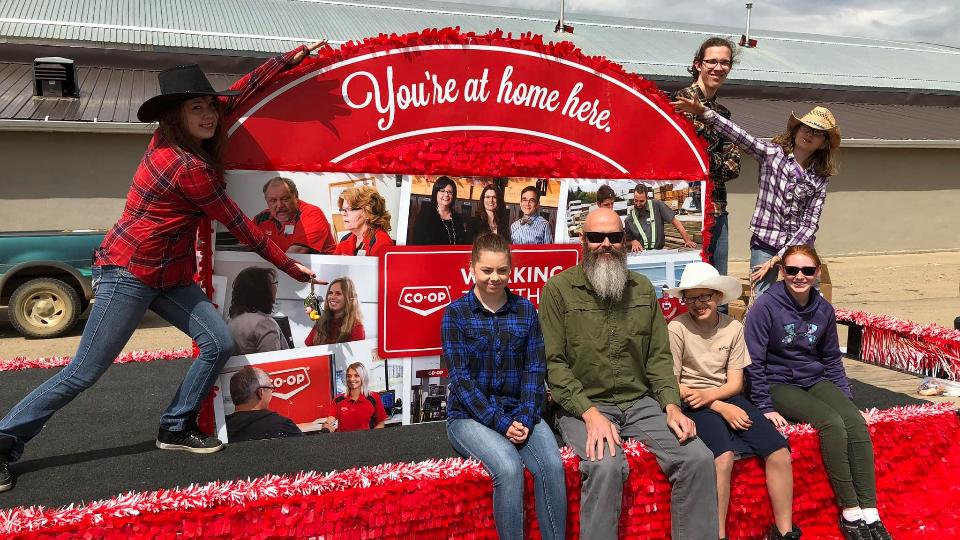 Become a Member
July 20, 2018
Co-op offers lifetime membership benefits, including the promise of high-quality products and services at competitive prices. Everyone is welcome to shop at a Co-op location and everyone is invited to become a Co-op member.
Members are owners. They have the ability to participate in the democratic process at their local association's annual meeting, which includes asking questions, proposing/voting on resolutions, becoming a board member and electing board members.
Our profits are your profits
As owners, members also receive a portion of any profits earned by their local co-operative association. Over the past five years, local associations across Western Canada have returned almost $1.4 billion to their members.
The amount members potentially receive is based on a percentage of their purchases throughout the year, which is distributed in in two ways: annual cash back or equity. Like a savings account, every member has an equity account that grows over time. Decisions and policies on profit-sharing are made locally and vary between co-operative associations.
Become a member by purchasing a share in your local Co-op. Please speak to your local association for more detailed information on membership and its benefits. For general information about membership, please visit the Co-op Membership Benefits website.
The Wild Rose Co-operative Association has been working hard to evolve and grow ever since it was incorporated November 1, 2017 as the merger of the Camrose Co-op (1972) and the Sedgewick Co-op (1947). The Wild Rose Co-op strives to provide in a co-operative structure, sustainable goods and services in an environmentally friendly and socially responsible manner while improving the economic position of our member/owners.

We are proud to have 16 locations featuring, three Food Stores, two Gas Bars with Convenience Stores, and one 24-hour Car Wash, six 24-hour Cardlock locations, two Agro, one Home Store and most recently the addition of a Liquor Store. With all our locations we offer services that fit all our customers needs in many different sectors, including but not limited to: Retail, and Bulk Petroleum, Lubricants and Oils, Propane, Enviro Fuel Tanks, Farm Supplies, including Crop, Animal Feed, Fencing, Bins and Equipment, and Agronomy Services.

The Wild Rose Co-op is a strong pillar in the communities it serves with 200 employees, and an annual sponsorship, and partnership budget of $200,000 to help grow our members organizations, events, and needs.
In 2019 The Wild Rose Co-op was able to give our members, $3.8 million in Profit Sharing to Member's Equity, and $2 million mailed in cheques! Wild Rose Co-op returned 4% on fuel purchases, 4% on food purchases, 4.2% on Agro purchases, 23% on Fertilizer, 11.25% on Lubricants, and 2% on Lumbar, and Hardware Purchases, and 5.5% on Liquor Purchases. With membership to the Wild Rose Co-operative Association costing $1.00, that's a great return on your investment!
Becoming a member is easy. You can:


Visit one of our locations or visit our Co-op Membership Benefits website for more information about membership and its benefits.
Charge Account
Already a member and wanting to sign up for a charge account with us? Click the attachment links below for the credit application forms.
Discover more: