Coronavirus Information
March 5, 2020
Updated: March 25, 2020
At Wild Rose Co-op we realize that the novel Coronavirus (COVID-19) has everyone feeling uneasy, especially as we face more changes to our daily routines and future plans.

We know that your priority is to keep your families safe and ensuring that you have the essentials. Wild Rose Co-op is taking precautions to keep both our team members and our communities safe and healthy. Our stores are cleaned and sanitized daily as a normal course of business, but we have increased the frequency of the cleaning and sanitizing. We are also ensuring our team members have all the personal protective equipment that they require to feel safe.

Our food stores have been very busy since the beginning of the pandemic. This has put pressure on the entire industry and ours is no exception. Trucks have been as much as 30 hours late getting to our stores. You will also see limits on key products such as milk, some meat items, eggs and other staples as the supply chain catches up to the demand. We do ask that our members please purchase for your immediate needs at this time. We do expect that the supply chain will catch up in the short term.

This is a the perfect time to thank our team members for their efforts in these extraordinary times. They are working tirelessly to do whatever it takes to serve our members.

Please continue to be kind and think about each other during these difficult times. We will get through this together as a community.

Carol Rollheiser, General Manager
Wild Rose Co-op Location Information:
If location isn't listed here there have been no changes to hours, entrance to the public, etc. Please check back for updated information.
Camrose Food Store
Effective Wednesday, March 25, 2020
Operating hours:
7:00am to 8:00pm Sunday through Saturday.
Downtown and Eastside Gas Bars
Operating hours:
6:00am-8:00pm, Monday through Saturday
7:00am-8:00pm Sundays
Administration Office (Camrose)
The Administration Office is closed to the public.

During this uncertain time with Covid-19 we realize it may be more difficult for our customers to make payments on their account. There are many options available to our customers to make these payments.
For the safety of everyone, we encourage payments made remotely.
Here are easy ways to make payments, we accept the following:
Online/telephone banking
-Vendor is Wild Rose Co-operative Association
-account # is your Co-op number with Wild Rose Co-op
eTransfer
-you must call Sarah Shield 780-672-3107 to obtain a password
Pre-authorized debit
-can be set up to automatically to pay your account monthly.
-please contact Shirley Sinclair 780-672-3107 to sign up

If these options don't work for you, in person payments (at any retail location) we accept cash, cheque or debit card.
Any other inquires to the Administration Office can be made by telephone: 780-672-3107
Agro Sites: Camrose, Sedgewick, and Viking

Here at Wild Rose we are doing our part to fight the spread of Covid-19. We ask you to be patient with us during this sensitive time. Please communicate with the Wild Rose Employee via phone, text or email.
The Agro sites are still open for business, pick ups and deliveries. Please help us do our part in keeping everyone safe.
• Picking up product from Wild Rose Agro site- Please DO NOT show up to Agro site unannounced. We ask you to stay in your vehicle at all times and will send your loadout ticket/invoice via email/mail.
• Delivery's to Farm- We ask that you keep your distance from the Wild Rose delivery driver. We will send loadout ticket/invoice via email/mail depending on your preference.
• Picking up your Fertilizer- Please call ahead to arrange your time. When on site we ask you to roll your tarps back and proceed to the overhead load out bins. Please do not leave your truck at this point. After you are loaded up you may roll your tarps back up. We will send the blend ticket via mail/email.
• For charge account bill payments, please mail your cheque to the address listed on your statement. Bill payments can also be made through your on-line banking. Instructions are also on your statement.
Camrose Agro – 780.672.3051
Sedgewick Agro – 780.384.3679
Viking Agro – 780.336.2100
Payments/Invoices can be mailed to: Wild Rose Co-operative
4818 – 51 Street
Camrose, AB T4V 2R8
Killam Bulk Station

Effective Wednesday, March 25, 2020.
8:00am-6:00pm Monday through Friday
Closed Saturday and Sunday
Killam Cardlock is still open 24hours/7 days a week

The "House Fuel Card" will only be available Monday to Friday, 8:00am to 12:00pm (noon).* Please note hours and and usage for the house fuel card are subject to change without notice. If possible please call ahead at 780-385-3805.
NOTICE: Effective, June 1, 2020 the "House Card" will be no longer available for fuel purchases. For more information on how to apply for your own Cardlock card give the Killam Bulk Station team a call at 780-385-3805.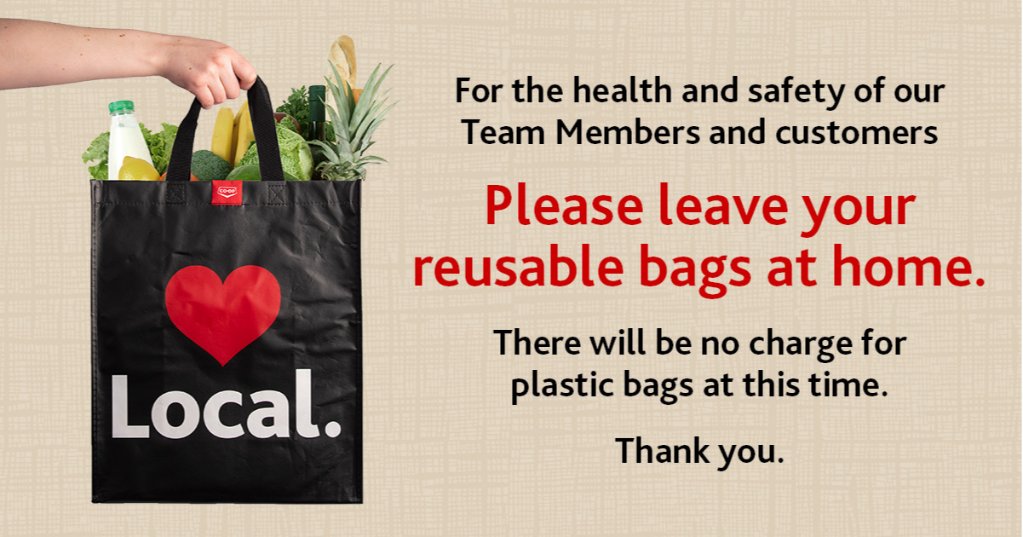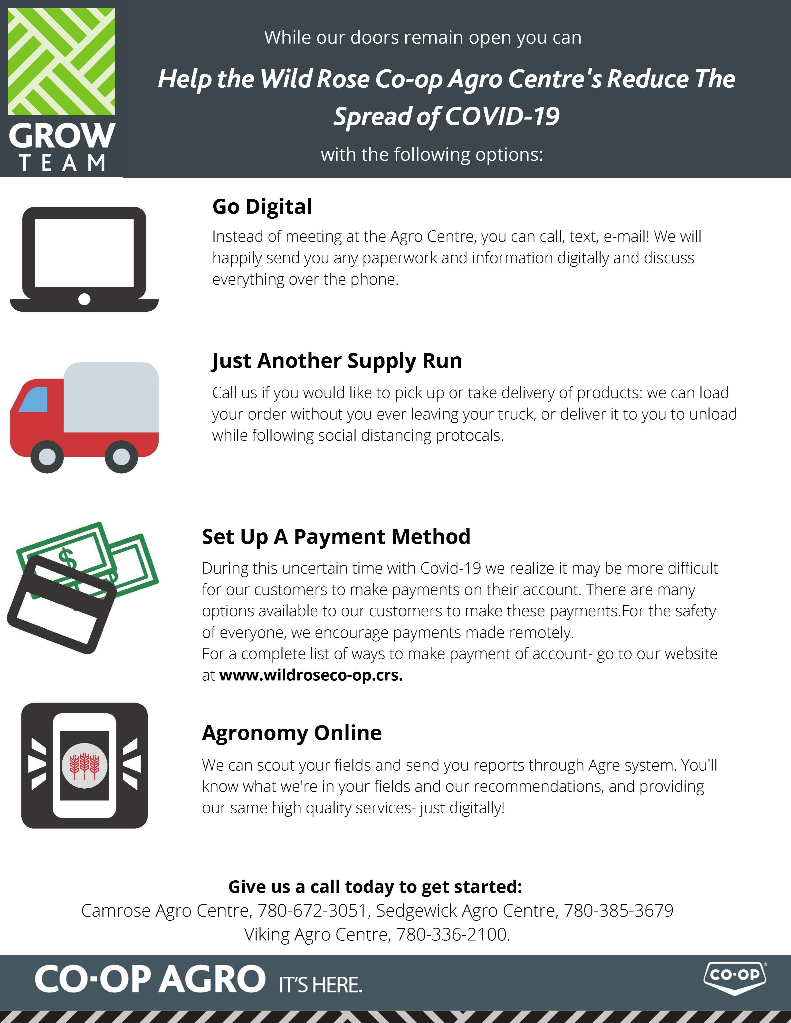 For timely updates related to the COVID-19 specifically in Alberta click here: https://www.alberta.ca/coronavirus-info-for-albertans.aspx
Discover more: