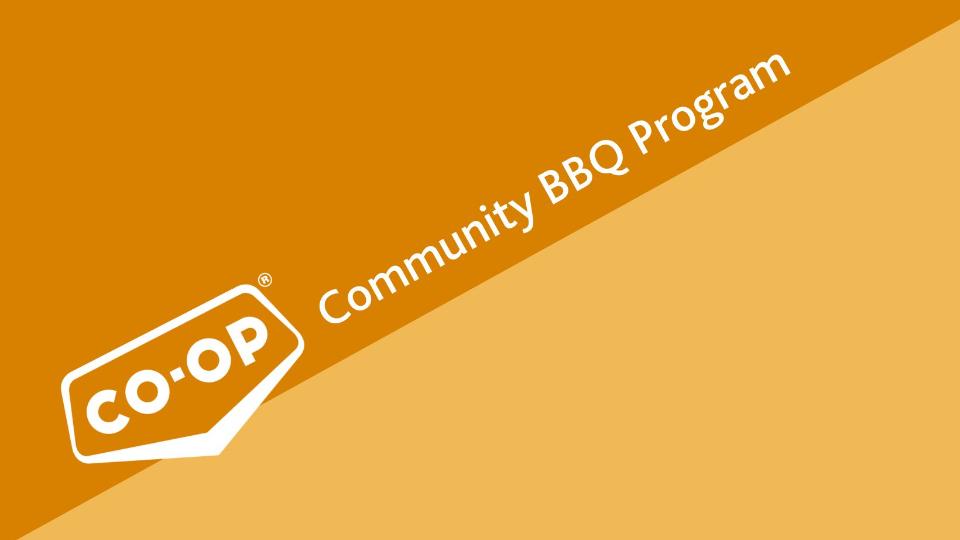 Community BBQ Program
March 31, 2023
Fundraising BBQ Event

Wild Rose Co-op provides your group with space, equipment, and products to hold a fundraising BBQ at the Camrose, Killam, and Sedgewick Food Stores.
Dates for BBQs are first-come, first served. At the bottom of this page, you will find the BBQ program guide and Safe Food Handling Guidelines.
We welcome applications from:
Non-profit/registered charitable organizations exempt from taxation under the Canada Income Act, whose programs and services benefit our community.
Not-for-profit community groups and youth organizations (Non-registered are also considered).
Please note that someone on your team must have a Wild Rose Co-op membership to participate in this program and that your group's purpose should align with our Co-op's values of Integrity, Community, and Excellence.
How it Works:
Complete the online application form a minimum of TWO weeks in advance of your fundraising event. Phone calls to book space will not be accepted.
Recipients are chosen at the discretion of Wild Rose Co-op. Preference is given to causes and organizations that align with our Co-op's values.
Please include multiple dates as you are not guaranteed your first choice as it could already be booked by another group.
Wild Rose Co-op will contact you for confirmation of dates and information. If you have not received a phone call or e-mail your organization has not been booked in.

Click here to apply! Community Event Application
Wild Rose Co-op uses Do Some Good to power their application forms.
Wild Rose Co-op like other community-minded businesses, receives numerous requests for community support. Please allow a minimum 2 weeks to review your requests and respond. Wild Rose Co-op works hard to assist in as many community organizations as possible, however due to the high volume of requests received, not all worthwhile proposals will be approved. Such response does not reflect upon the value of your organization and the valuable service you provide.
Discover more: